What are Mind Yeti® mindfulness sessions and what support materials will be available? 
Mind Yeti mindfulness sessions are an optional, supplemental resource that focuses on building mindfulness skills. These sessions can be used to start the school day, refocus the class, practice kindness among classmates, help students feel calm, or end the day with gratitude. Educators can use the playlists to develop positive classroom routines and help their students become familiar with mindfulness.
Mind Yeti mindfulness sessions and resources are available alongside the Second Step® Elementary digital program. Sessions are not integrated into the program's social-emotional learning (SEL) lessons.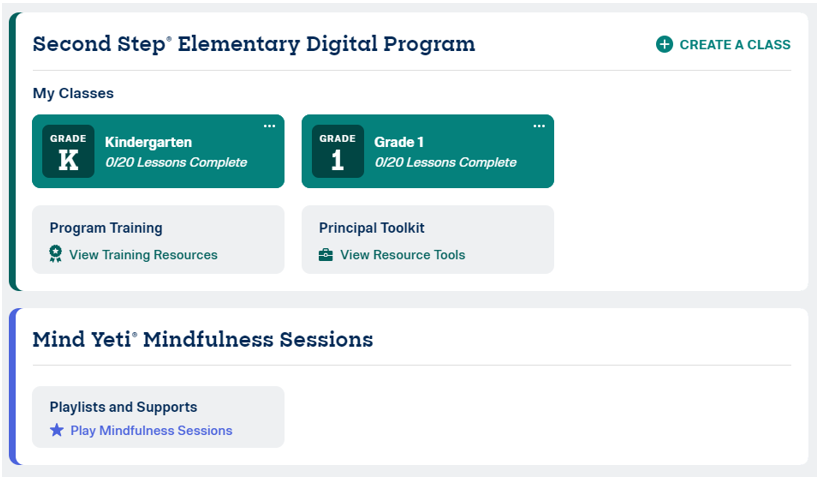 There are two playlists (each consisting of 16 sessions), four introductory videos, and a variety of support materials teachers can reference to start using the Mind Yeti mindfulness sessions.
The four short, student-facing videos and accompanying teacher guide PDFs introduce the basics, ways to get ready to practice mindfulness, and the brain science behind mindfulness. All the videos are available in English and Spanish, with closed captioning in each language.
The Mind Yeti mindfulness sessions are short, guided experiences featuring diverse voices and immersive soundscapes that invite kids and teachers to practice mindfulness techniques like deep breathing, stretching, and emotion recognition. All the sessions are available in English and Spanish.
The support materials, in PDF format, provide teachers with tips on introducing mindfulness to students and their families, suggestions on how to build a routine using Mind Yeti mindfulness sessions, and the connection between mindfulness and SEL. All student-facing and teacher-facing support materials are available in English and Spanish. If you're a Second Step Elementary digital customer, check out the sessions list and getting started guide PDFs, available in the Supports for Educators section of Mind Yeti Playlists and Supports, for more in-depth information.
What is mindfulness? And how is mindfulness related to social-emotional learning (SEL)?
Mindfulness is intentionally paying attention to things as they are right now with kindness and curiosity. It can be developed by practicing moment-to-moment awareness of sensations, emotions, and surroundings, and accepting them without judgment and without trying to change them.  
Mindfulness isn't social-emotional learning. It's an embodied experience, not a lesson. But like SEL programs (for example, the Second Step® Elementary digital program), mindfulness practices can help students build their executive-function skills, such as attention, self-regulation, and mental processing skills.1
SEL lessons teach students specific skills they then need to internalize (a process that goes from the outside in). Mindfulness starts with students' inner experiences and helps them connect those experiences to what's happening around them (a process that starts inward and moves out). Like social-emotional skills, mindfulness is a skill that can be practiced and developed.
Mindfulness practices are thought to strengthen self-control by bolstering observational skills so that people can learn to respond thoughtfully instead of reacting reflexively to stressors.2 By teaching students how to pay attention to their emotions and reactions, mindfulness practices aim to help them better regulate their emotions, which can then positively affect their behavior and relationships in the classroom.3,4 SEL programs that include mindfulness practices have been shown to increase students' emotion regulation, attention skills, perspective-taking, prosocial goals, and optimism, so incorporating mindfulness into the classroom can be a valuable addition.5
Why are Mind Yeti® mindfulness sessions available to Second Step® Elementary digital program users?
The Mind Yeti sessions provide additional resources outside of Second Step lessons to support students' focus and a classroom environment where students are ready to engage in learning.
Research shows that mindfulness, like SEL, can help promote an environment where students feel safe, supported, and ready to learn. This blog post, written by Dr. Cailin Currie, a developmental psychologist and senior research scientist at Committee for Children, provides more information about mindfulness and the supporting research.
Do Mind Yeti® mindfulness sessions have to be used when teaching the Second Step® Elementary digital program?
Not at all. These sessions are optional and are provided as a supplemental resource. Educators can choose to access the Mind Yeti mindfulness sessions or choose not to.
Is there a recommended implementation for the Mind Yeti® mindfulness sessions to support the achievement of social-emotional learning goals?
The sessions are meant to be flexible. We suggest that educators choose sessions that best align with their students' needs. We don't recommend replacing Second Step® Elementary digital program lessons with Mind Yeti mindfulness sessions, as they teach different skill sets.
How will Mind Yeti® resources be accessed from the Second Step® Elementary digital program?
Educators can access Mind Yeti mindfulness sessions from their Dashboard. The session are housed in their own section of the Second Step Dashboard, directly below the access to Second Step Elementary digital program classes and related program supports.
How can I leave feedback as an educator who has tried using Mind Yeti® sessions in the classroom?
There is a survey linked at the bottom of each playlist that asks about teacher satisfaction and usage, as well as student engagement.
If I need help while using Mind Yeti® mindfulness sessions, who should I contact?
Our client relations professionals are happy to help. You can send an email to support@secondstep.org or call 800-634-4449, ext. 1, Monday through Friday, 6:00 a.m. to 4:30 p.m. Pacific time.
References
O'Toole, C., Furlong, M., McGilloway, S., & Bjørndal, A. (2017). Preschool and school‐based mindfulness programmes for improving mental health and cognitive functioning in young people aged 3 to 18 years. The Cochrane Database of Systematic Reviews, 2017(1). https://doi.org/10.1002/14651858.CD012518


Roeser, R. W., & Zelazo, P. D. (2012). Contemplative science, education and child development: Introduction to the special section. Child Development Perspectives, 6(2), 143–145. https://doi.org/10.1111/j.1750-8606.2012.00242.x
Durlak, J. A., Weissberg, R. P., Dymnicki, A. B., Taylor, R. D., & Schellinger, K. B. (2011). The impact of enhancing students' social and emotional learning: a meta-analysis of school-based universal interventions. Child Development, 82(1), 405–432. https://doi.org/10.1111/j.1467-8624.2010.01564.x
Zenner, C., Herrnleben-Kurz, S., & Walach, H. (2014). Mindfulness-based interventions in schools—A systematic review and meta-analysis. Frontiers in Psychology, 5, Article 603. https://doi.org/10.3389/fpsyg.2014.00603
Maloney, J., Lawlor, M.S., Schonert-Reichl, K.A., & Whitehead, J. (2016). A mindfulness-based social and emotional learning curriculum for school-aged children: The MindUP program. In K. A. Schonert-Reichl & R. W. Roeser (Eds.), Handbook of mindfulness in education (pp. 313–334). Springer.