I received an email telling me that I am a Setup Administrator. What does that mean?
Click here to watch a two-minute video tutorial: Setup Administrator Tutorial
You can also download this helpful infographic at the bottom of this page: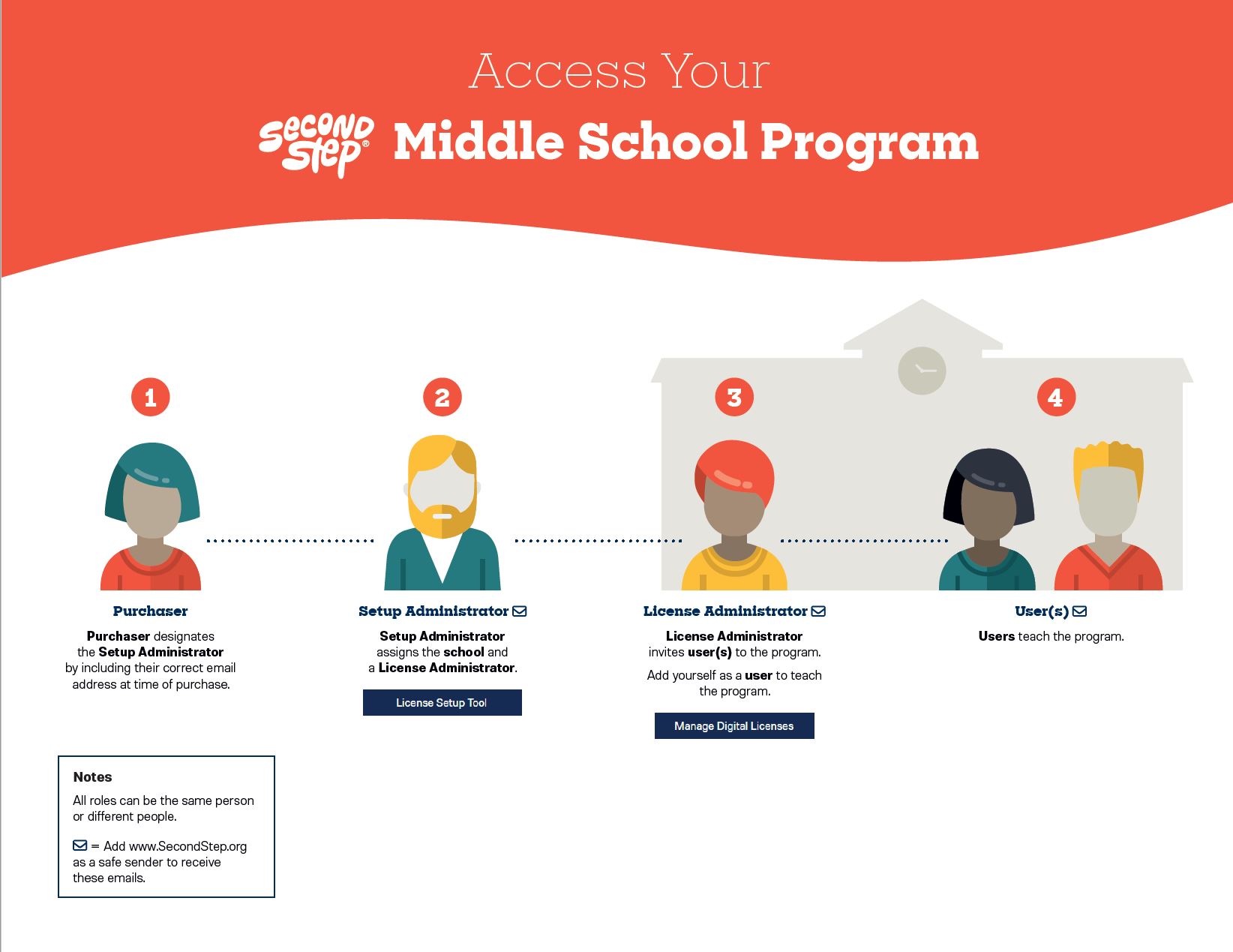 Setup administrators are responsible for the initial setup of digital programs by assigning the school and License Administrator for each license purchased.
How do I set up my digital programs?
Log in to www.secondstep.org. Click My Dashboard.
If you have an account, click Log In

.

If

you

don't

have an account

, create one

.

C

lick Create Account

and complet

e

the User Profile. L

eave the

Product A

ctivation

K

ey field blank

. Click Submit.
Click License Setup Tool under Digital License & Training Administration.
Step 1: Assign School
Under the Unassigned Licenses tab, click Assign next to the license you would like to set up. The License Setup form should prepopulate with the school/organization information you provided in your profile.
If

correct, click Next.

If you want to select a different school, u

se the dropdown menu (down arrow) to

change

the

country, state/province/territory, city and

school

/organization

where the license will be used

.

If necessary, g

o to the bottom of the dropdown

menu and select My organization/school is unlisted.

C

lick

N

ext

.
Step 2: Assign License Administrator
License administrators give staff users access to digital programs so that they can use the program and/or access online training.
Click the box in front of "I will be a License Administrator," if you will be the license administrator.

If designating someone else, e

nter the license administrator's email address and retype it to

confirm their email. Click Next.
Step 3: Confirmation
Review the school and license administrator's email. If you need to make corrections, click "Previous." Otherwise, click the box in front of "I understand that I can't change the school assigned once I submit it." Click Submit.
If you will also be a license administrator, click here.