Watch a four-minute video on how to set up your licenses in our updated platform: Second Step Middle School Digital License Setup
You can also download this helpful infographic at the bottom of this page: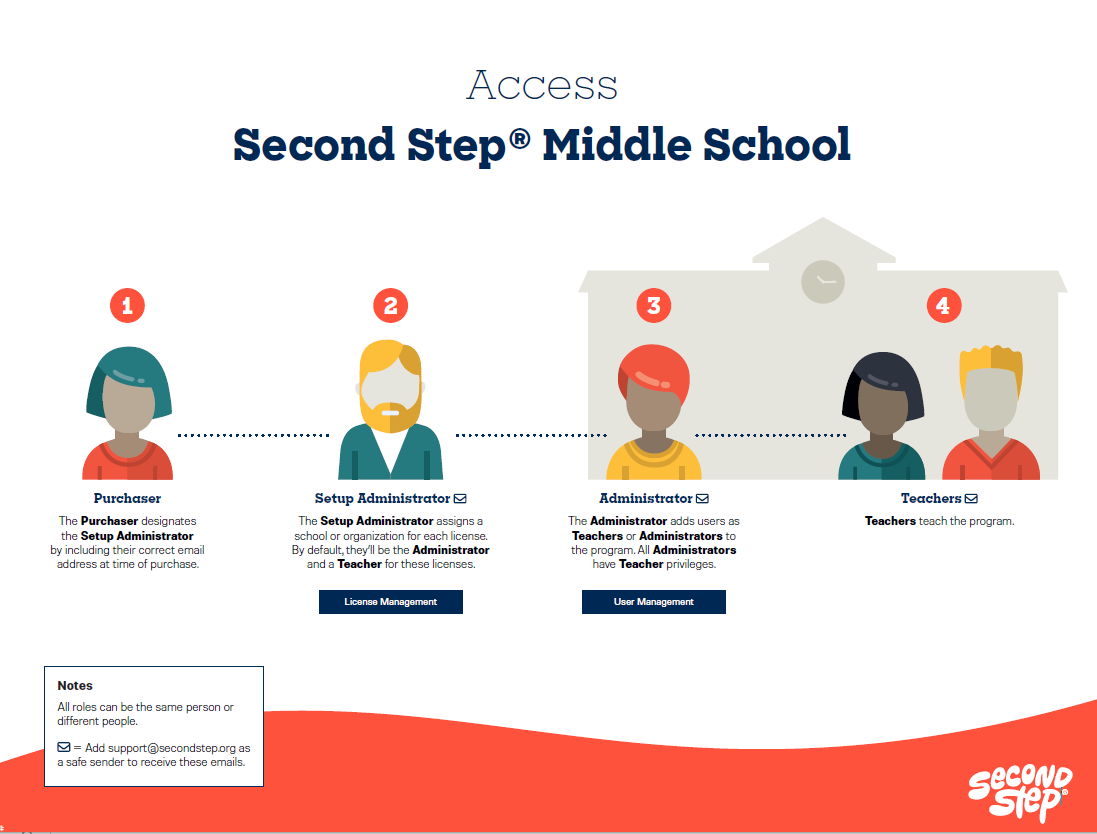 As the designated Setup Administrator for Second Step online programs and trainings, you are responsible for assigning a school or organization to each license before it can be used. By default, you're also the Administrator and a Teacher for these licenses.
How do I set up my digital programs?
Assign School or Organization (required)
Go to secondstep.org

If you have a Second Step account, log in.
If you don't have an account, create one. Click Create Account and complete the User Profile. Click Submit and then Log in.

Click License Management on your Dashboard.
Click "Unassigned Licenses."
Click "Assign License" next to the license you want to set up. The form should pre-populate with the school or organization you selected in your profile.

If this school/organization selected is correct, go to step 5.
If you want to select a different school/organization, use the dropdown menu (down arrow) to change the country, state/province/territory, city and school/organization where the license will be used.
If you don't find your school/organization listed, scroll to the bottom of the dropdown menu and select "My school is not listed" and enter your school name where indicated.

Check the box next to the statement "I understand that I can't assign this license to a different school after I click Assign License"
Click "Assign License."
Repeat Steps 3 to 6 until all licenses have been assigned.
Ready to give staff access to Second Step Middle School or to online training for Bullying Prevention Unit or Child Protection Unit? Click here.
Ready to teach Second Step Middle School or start online training for Bullying Prevention Unit or Child Protection ? Click here